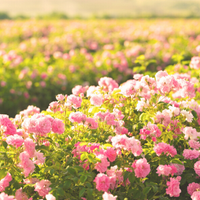 10 Ways to use Thracian Bio Rose water for healthy, glowing skin and hair
Thracian Bio rose water
is steam-distilled from premium Rosa Damascena petals. It is simply divine for your hair and skin – pure rose water with no additives, color or flavor enhancements.
It has been used since the Middle Ages, now it is still widely popular around the world for skin treatment and also as hair booster.
Here are 10 simple ways you can use Thracian Bio rose water. Although the possibilities are endless!
As skin toner
Use it twice a day – in the morning and in the evening, after regular cleansing with water. Thracian Rose water cleans and tightens pores, gives a healthy glow and helps to maintain skin pH balance. Regular use of the product helps prevent problems like blackheads, acne, and pimples.
To reduce dark circles and under-eye puffiness
Soak cotton pads in rose water and place them under your eyes, and leave for 15 minutes. Rose water contains vitamin C which lightens dark circles and reduces puffiness under the eyes.
Add it to your favorite mask
We suggest that you try our favorite honey and rose water facial mask! It is suitable for all skin types; tightens pores, clears blemishes and brightens skin.
Easy DIY honey and rose face mask
- 2 tbsp Thracian rose water
- 5 tbsp raw honey
To make, simply combine the two ingredients and apply the mask to face in an even layer. Leave it on for 15 mins. Wash mask off with lukewarm water and pat dry.
As natural moisturizer
Every skin type, even the oily one needs to be moisturized!
Thracian Bio rose water will give enough hydration without making your skin oily or too shiny. It hydrates the dry skin and reduces excess oil. Our bio rose water can be your skin saver in winter and summer!
As anti-aging toner
As we mentioned, our rose water naturally contains vitamin C, which also helps the skin rejuvenate, reduces wrinkles and restores elasticity.
To soothes skin irritations
Everyone with sensitive skin knows how annoying it could be to wake up in the morning and find out that something had just caused a rash on your face. Thracian rose water has strong anti-inflammatory properties. It calms the skin and soothes irritations. It also cools sunburned skin. Just use it as a regular facial toner, in the morning and in the evening.
As a natural makeup remover
Many makeup removers contain alcohol and chemicals, which can cause rashes and can dry the skin. Thus, they may not be your best choice for sensitive skin.
Thracian Rose water is a natural alternative to other makeup removers. It takes off all makeup gently and leaves the skin hydrated. If you have dry skin, you can also add a few drops of your favorite facial oil.
As hair booster
Rose water is suitable for all hair types. It promotes healthy hair growth, conditions hair, controls excess oil, hydrates the scalp. How can one use it? Apply evenly with both hands and rub gently on your scalp. Use it after shampooing. Your hair will be soft and shiny!
Add it to your bath
It is scientifically proven that rose water has anti-stress, relaxant and antidepressant effects. To relax after a long day at work, add 1/2 cup of rose water to your bath. It will create a pleasant, aromatic and luxurious experience! Moreover, your skin will be softer and your mind refreshed.
As a natural fragrance for clothes
Add a few drops on a cotton pad and leave it in your closet. The aroma of roses is said to be a powerful mood enhancer! You can also put a few drops on your pillow – it will help you sleep better after a long day, and you will wake up refreshed.